Bežični okidač za DSLR fotoaparate (Android)
Ako ste pročitali blog o okidanju Canon DSLR fotoaparata putem Android telefona, možda ste se zapitali da li to može i bez kabla? Da, može!
Za fotoaparate koji imaju ugrađen infracrveni senzor, postoje daljinski kojim je moguće bežično kontrolisati okidanje fotoaparata. Cena ovih uređaja nije preterano velika, ali ako imate Android telefon, ili neki drugi Android uređaj koji uvek nosite sa sobom, sve ovo može i mnogo jeftinije.
Da bi Vaš Android uređaj pretvorili u daljinski za okidanje fotoaparata, potrebno Vam je parče hardvera i aplikacija kojom ćete kontrolisati okidanje fotoaparata. Neophodan hardver namerno nazivam parčetom hardvera, jer su to zapravo dve IR diode i jedan stereo konektro. Evo i šeme: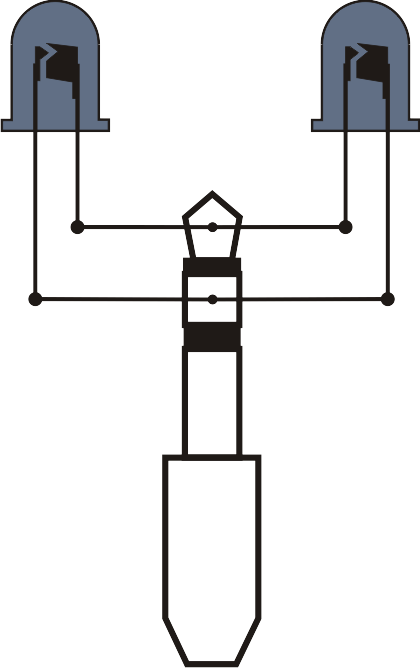 Obratite pažnju kako su diode povezane: plus prve diode i minus druge su povezane na desni kanal, dok su minus prve i plus druge diode povezani na levi kanal stereo priključka.
Aplikaciju kojom možete kontrolisati Vaš DSLR koristeći ovo parče hardvera, možete naći ovde. Takođe niste ograničeni samo na Canon fotoaparate (kao u prethodnom blogu), već je moguće kontrolisati i fotoaparate proizvođača Nikon, Olympus, Snoy, Fuji, Minotla i Pentax 😉